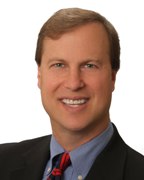 Buddy Norman
Founding Member of KW Commercial
Background - Education
2006-2007 Burnham Real Estate, Managing Director/Principal
1997-2005 Staubach Company, Co-Founding Principal – San Diego
1995-1997 Paine Webber, Financial Consultant
1990-1995 Merrill Lynch, Financial Consultant
1986-1990 The Staubach Company of Dallas, Atlanta, and Washington D.C., Vice President
1985 Bachelor Of Business Administration, Baylor University
Representative Clients
• Fair Isaac Corporation, Del Mar
• Conexant Systems, Sorrento Mesa
• Intuit, Governor Park
• Intenet Connect, Torrance
• Corporate Campus, Del Mar
• Genrad Corp, Poway
• Qualcomm, UTC
• Iomega Corporation, Poway
• Relera Corporation, UTC
• XO Communications, Kearney Mesa
• Computer Sciences Corp., Sorrento Mesa
• Mitsubishi Corporation, Sorrento Mesa
• General Instrument, Sorrento Mesa
• U.S. Filter Corporation, Sorrento Mesa
• Pacific Bell, Sorrento Mesa
• Nextel Communications, Mission Valley
• Stellcom, Del Mar
• Farmers Insurance, Carlsbad
• Signal/Celgene, UTC
• Maxim Pharmaceuticals, UTC
• BKM Officeworks, Kearny Mesa
• NuVasive, UTC
• Booz Allen, Hamilton, Mission Valley
• IMA Management, Hillcrest
Summary
Buddy Norman, Founding Member of KW Commercial and author of
SHIFT Commercial
, joined Keller Williams Realty in 2008 to lead the development and growth of the company's new commercial division. With two decades of commercial real estate experience, Norman has an established record of building commercial brokerage teams across the United States.
Norman is a proven leader of integrity and character. He leads teams of real estate professionals that are passionate in the pursuit of occupancy cost savings for their clients and demands service excellence as a minimum standard. Norman's teams' results are as extraordinary as their list of clients.
Interests
While attending Baylor, he founded "Baylor Buddies", a nonprofit organization that matches Baylor
students with Waco's underprivileged children in a mentoring program. "Baylor Buddies" is still an active
program today. Norman, his wife and three children live in New Braunfels, Texas.
www.kwcommercial.com |