SOLD: 205 Units in Los Angeles, CA.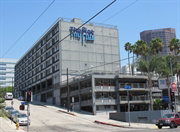 (10/2014) Los Angeles, Calif. – Waterton Associates LLC acquired The Flat, a 205-unit apartment building at 750 S. Garland
Ave. in Los Angeles, CA from Moreno Companies LLC which was represented by KW Commercial's Michael Balson.
Renovated in 2005, the six-story multifamily property totals 82,700 square feet on a one-acre lot. Consisting entirely of studio floor plans and penthouse suites, the property was formerly a Holiday Inn and was converted back in 2005 to include a partial first floor, parking garage, and five floors of residential rentals. It features two sundecks, a swimming pool, fitness center, and resident lounge.
The asset was 92 percent occupied at the time of sale.
The buyer will complete a capital improvement program seeking to reposition the asset and capitalize on upside potential through renovations, common-area improvements, and providing additional amenities and services.