SOLD: Carolina School Supply Building for $3.7 million in Charlotte, N.C.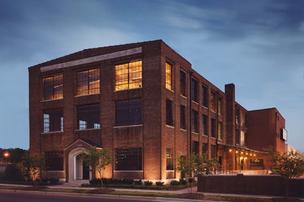 (09/2014) Charlotte, N.C. – East West Capital, a real estate investment firm based in Asheville, has purchased the Carolina School Supply Building on Charlotte's West Morehead Street for $3.7 million. John Vickers of KW Commercial represented the buyers.

The 30,000-square-foot office building is at 1023 W. Morehead, near the Interstate 77 interchange, and is fully leased to four tenants: Ginkgo Residential, The Idea People, Redline Design Group and Rives & Associates. The building, constructed in 1927, was originally a showroom and warehouse for the Carolina School Supply Co. An affiliate of development firm Conformity Corp. purchased the building in 2000 for $1.25 million and placed it on the National Register of Historic Places, securing federal and state tax credits to help fund the renovations needed to convert it into office space.

"We think it's been renovated really nicely so we don't plan any long-term structural changes," said Brian Nelson, managing partner of East West Capital.

He added that the purchase is his company's first in Charlotte. Nelson and his partner, David Moritz, have mostly invested in Asheville and western North Carolina, but are looking to do more in Charlotte, especially its central business district. Vacancy is down to 8.6 percent and asking rates on properties have risen for six consecutive quarters, reaching their highest since 2009, he said.

The acquisition is the first in the Charlotte market for East West. "Charlotte is experiencing very strong growth trends and the office real estate sector is poised to benefit, particularly since there is limited new supply being built to meet the increasing demand for space,? said Brian Nelson, a managing partner with East West.