SOLD: Value-Add Hollywood Hills Complex Trades Hands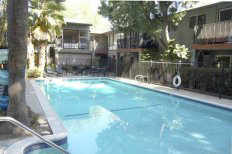 (09/2014) Los Angeles, Calif. – Private family investor Kambiz Hakim, along with his two sons Alexander Hakim and Steven Hakim, has purchased a 48-unit value-add apartment building in the Hollywood Hills from SA Properties Holdings Hillside Avenue, GlobeSt.com reports exclusively. Located at 7215 Hillside Ave., the property is one block from Runyon Canyon. The property traded hands for an undisclosed amount.

"The seller had no intention of selling, but was getting incredible unsolicited offers on the property," says Michael Balson, commercial director at KW Commercial, tells GlobeSt.com.

"They decided to take advantage of what they perceived to be a very aggressive, seller-oriented market.? Balson represented both the buyer and seller in the transaction, and explains that the buyer was attracted to the property because of the value-add opportunity. "The buyers are prolific private investors who always want to grab opportunities for value-add in great locations,? he says.

Balson could not release any information about the price of the property; however, according to industry sources unrelated to the transaction, the seller purchased the property in 2009 right after the downturn for approximately $11 million. With the economic growth and active multifamily market, it is likely that the property has appreciated significantly since then. According to Balson, the sale received strong interest from potential buyers with "numerous? offers, and sold at market rate. The apartment complex is nearly 100% occupied. Sitting on 1.21 acres, it features landscaped grounds and a swimming pool. "This is very much a quality asset,? says Balson, adding that "in this submarket there is no product and there is little inventory of quality.? Balson is right. Transactions in this area are not entirely common. In a submarket over, Franklin Village, a 50-unit complex sold for $12.2 million to CGI Real Estate. The historic property was a rare find, and attracted strong interest from buyers. CGI plans to convert the property into short-term rentals.